Lots of people out there take their coffee very seriously, while others have no problem getting their hot bean water from a McDonald's drive-thru. For those of you less in the know here are five widely held coffee "facts" that are absolutely false.
1. Coffee is coffee. Period.
COFFEE IS A MAGICAL RAINBOW OF DIVERSITY AND FLAVOR, YOU HAVE NO IDEA!
Let's start off with the basics. Arabica and Robusta are the two main species of coffee plant (but there are others). They differ in size, shape, location, growing conditions, caffeine content, and taste. You can think of them as lions and tigers. They are both felines, but have noticeably different characteristics. There are also different varieties within the species, but I'm going to stop there for now.

Coffee plants only grow between the Tropic of Cancer and the Tropic of Capricorn, this region is known as the Bean Belt. Across the Bean Belt you will find unique flavors from place to place. It may be subtle, but to a trained palate Colombian coffee doesn't taste the same as Indonesian coffee.
Each region also grows and processes coffee differently. Many farmers in Brazil have space to grow coffee on large mechanized plantations, whereas producers in smaller countries often plant coffee in between taller trees and harvest by hand.
2. The darker the roast, the more caffeine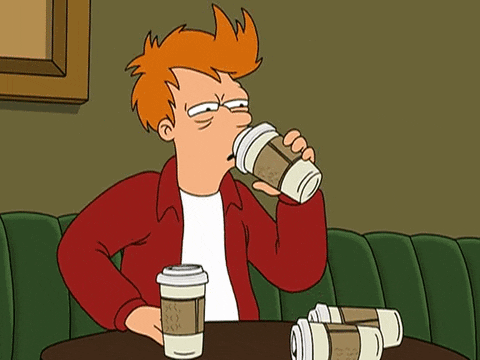 LONG STORY SHORT, NO. BUT…
Roasting coffee beans is an exact science with lots of technical components, but for the sake of simplicity it's fair to say that the roasting process itself does not have a major effect on a bean's caffeine content.

Although caffeine levels vary only slightly among the Arabica varieties, Robusta beans have twice as much caffeine as any Arabica. Robusta is the more hearty of the two, and usually has a bitter flavor. Arabica varietals are known for their complexity of flavor—it's so complex there is literally an explanation chart.
Because of the difference in naturally occurring flavor the two aren't roasted the same. Robusta beans are often left to roast a little longer than Arabica. This is probably where the darker roast equals more caffeine association comes from.
3. Black coffee just doesn't taste good
THAT'S PROBABLY JUST THE TASTE OF AN EXTREME ROAST YOU'RE THINKING OF IN DISGUST, AUTUMN.

Good coffee beans naturally have a variety of different flavors, which are brought out by the roasting process. When a batch of green coffee is roasted to perfection it's very easy to enjoy a cup of coffee with no extras.
A friend of mine put it best when she compared roasting coffee beans to making toast. If you toast a slice of whole wheat bread to a nice golden brown you will still be able to taste the wheaty flavor. But, if it pops out of the toaster black you will taste the burn, not the bread.
This concept also applies to coffee. Dark roast is great for espresso based drinks, but a little tough for most people to handle as a filter brew.
4. Brew with boiling water
THIS IS A NO SCALD ZONE
Water boils at 212°F (100°C), but the ideal temperature range for brewing coffee is between 196°F and 205°F (91°C and 96°C). Brewing coffee with boiling water can actually burn the grounds and leave your coffee tasting a mess.
If you haven't noticed there is A LOT of science behind growing, roasting, and even brewing these magic little beans. Different temperature points create different chemical reactions when it hits the grounds, and these reactions determine the flavor.
Just listen to 2016 World Brewers Cup Champion (yes, that's a thing) Tetsu Kasuya explain how technical pouring hot water over bean powder can get.
5. Store coffee in the fridge
MOISTURE IS THE DEATH OF FRESHNESS

If you are like me you may remember opening your grandma's refrigerator, and finding a can of Folgers next to the condiments. Then years later when you became a coffee drinking adult you did the same thing. Well, turns out we weren't doing our coffee or our tastebuds any favors.
The frequent change in temperature from taking coffee in and out of the fridge creates a buildup of condensation. Moisture is one of coffee's biggest enemies, and can ruin a bag of coffee before you even get to enjoy it all.
Grandmas are rarely wrong, but storing coffee at room temperature in air-tight containers is actually the best way to ensure it stays fresh for as long as possible.
Credit: Popeye the Foodie Dog Instagram
Now you are basically a coffee genius. Your newfound knowledge will come in handy next time you are making small talk with a barista while waiting for your latte.